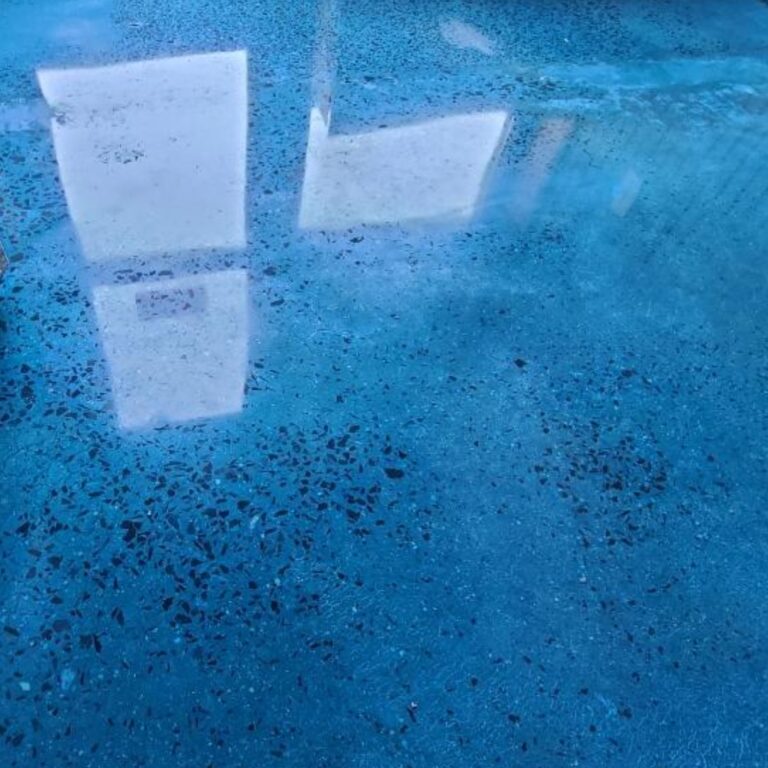 Concrete sealing is a sealer that rests on top of your concrete floor. It is the layer that protects your floor from various indoor and outdoor elements that could mar or damage it like dust, dirt, liquids, chemicals, weather, and UV rays from the sun. Having this coating shield your floor adds years to the concrete's quality and aesthetic
Most homes and businesses have loads of concrete. It's highly durable and cost effective, and it can last for several more years compared to other materials. However, concrete must be maintained with enough care and upkeep to prevent significant damage like cracks, deterioration, and various stains. That's why our team at Eastern Concrete Polishing, Inc. have provided concrete sealing for thousands of our customers.
Concrete sealing also provides the following benefits:
Repels Moisture
If a concrete floor is unprotected, it can quickly deteriorate from exposure to moisture. Water and other liquids that are left unchecked can break down the concrete and even create mold. Sealing the concrete prevents any contact from the elements.
Prevents Color Fading
The vibrance and color of a floor can rapidly fade due to high traffic, indoor lighting, or exposure to sunlight. A sealer will provide a glossy finish that will maintain and lengthen the life of your floor's color.
Resists Stains
If your floor is at risk of exposure to chemicals, oil, grease, or similar materials, then sealing the concrete will enable you to simply clean any messes and leave the floor looking like nothing ever happened.
Prevents Cracking
Like any flooring material, even concrete can naturally break down in places over time, especially in areas of heavy traffic. The sealing will serve as a barrier that maintains the structural integrity of your floor.
Lasts Longer
Adding a sealer on top of the concrete and providing simple upkeep will have your floor looking fresh and strong for 10 to upwards of 20 years.
When considering the New England elements, concrete sealing is an easy decision. It is inexpensive; it protects concrete floors from anything that is thrown at it; and it will add a decade or more to the quality and vibrance of your floor. You should be able to focus on the most important things in your life, whether it be your family or your current project, and save yourself from the hassles of maintaining your concrete floor.
If you are considering concrete sealing, call us today. Our team of specialists at Eastern Concrete Polishing, Inc. are excited to help you get the most out of your concrete floor!
Service Areas: Massachusetts: Boston, Worcester, Springfield, Plymouth, Salem, Lawrence, Amherst, Provincetown, North Adams, Pittsfield, Great Barrington, Southbridge, Haverhill, Quincy, Newton, Marlborough, Athol, Greenfield, Fall River, New Bedford, Brockton, Taunton, Auburn, Lowell, Leominster, Northampton, Lenox, Falmouth, Nantucket, Martha's Vineyard, Rockport, Dennis. New Hampshire: Keene, Concord, Manchester, Hampton, Portsmouth, Newport, Nashua, Plymouth, Ossipee, Lebanon, Lincoln, Littleton, North Conway, Pittsburg, Claremont, Walpole, Chesterfield, Brookline, Milford, Rochester, Albany. Connecticut: Hartford, New Haven, New London, Canaan, Westport, Newtown, Warren, Woodstock, Waterbury, Bridgewater, Stamford, Norwich, Stafford, Burlington, Ridgefield. Rhode Island: Providence, Warwick, Newport, Charlestown, Richmond, Woonsocket, Narragansett, East Greenwich, Foster, Hopkinton, New Shoreham. Not all locations are listed, We service anywhere in New England.